Freshwater's August Highlights
So, the summer is drawing to an end and we're into a new month. Below, we reflect on some of our highlights this August.
Promoting vital services for survivors of domestic abuse and sexual violence
For over three years, we have worked with the Welsh Government to promote its Live Fear Free initiative and during the summer months we delivered another burst of activity to promote the vital services it provides to those experiencing or at risk of experiencing domestic abuse and sexual violence.
The campaign encourages a range of audiences to recognise the signs of domestic abuse and promotes the message of not being a bystander.
Incorporating a number of channels and advertising formats, our adverts signpost to the all-important Live Fear Free helpline, which offers telephone, text, email and web chat services.
Access the helpline here.
Discussing 'levelling up' in the North of England
Our events team at Waterfront successfully delivered a one-hour webinar on the topic of transport infrastructure in the North of England this month.
Discussions included how major projects planned in the North of England can be delivered and how these schemes can generate economic growth.
Take a look at Waterfront's upcoming conferences and webinars for the planning and infrastructure, rail, ports and marine sectors here.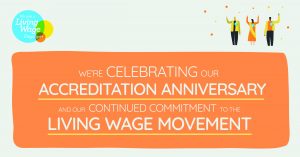 Celebrating another year of being committed to the Living Wage movement
August marked our anniversary of being accredited by the Living Wage Foundation. We're proud to be one of 7,000 UK employers who pay above the Living Wage and give our staff a salary they can live on.
We were among the founding signatories of the PRCA's campaign to end the practice of unpaid internships – that's why it meant so much to us to be recognised for the 'Best Internship Programme' earlier this year.
When it comes to employing and growing new talent, the Living Wage remains at the heart of our values.
Find out more about the Living Wage here, and the work we do here.