Freshwater's October Highlights
October has been another jam-packed month for the Freshwater team.
Relishing the return of in-person events
October saw Freshwater host its first physical event since lockdown – the Unite the Union Policy Conference (18-22 October), where five days of motions were completed.
The conference, organised and managed by our events team, was held at the ACC in Liverpool and also saw the integration of virtual attendees.
Watch the video above to take a look at our time at the conference.
Meanwhile, our sister company, Waterfront, also held its first in-person conference since February 2020 – the 29th annual Rail Freight Group Conference.
Attendees explored the path to rail recovery, heard the latest insight on trade patterns and the introduction of free ports and networked face-to-face with senior rail freight leaders.
Learn more about the event here.
Examining the crucial role of South Wales' ports with ABP
The ABP Future ports: Wales vision virtual conference, held on 13 October, attracted 233 live viewers and is still drawing in views on demand.
The event involved the Minister for Climate Change, Julie James, Secretary of State for Wales, Simon Hart and several other industry-leading contributors.
Positive comments from viewers included:
"A great insight into ABP's vision – the start of a very important journey that will require teamwork, at all levels, with government and industry and skill providers. A huge opportunity!"
"A really interesting session (and loved the video!). Thank you. Looking forward to working together in the future vision for ABP's ports."
"Excellent session with lots of great discussion and positivity. Huge opportunities to get it right… Many thanks"
"Many thanks for the comprehensive insight into the intentions and opportunities for the port infrastructure across Wales/UK, great opportunities to collaborate and work as a team to deliver."
Launching Wales's plan to tackle climate change
On 28 October, we worked with the Welsh Government to launch the new Net Zero Wales Plan at the Solar Heat Energy Demonstrator building near Port Talbot.
The live event, hosted by ITV's Ruth Dodsworth, was attended by several press and broadcast journalists and involved a panel discussion with the First Minister, the Minister for Climate Change, Professor Dave Worsley and inspirational environmentalist 17-year old speaker, Poppy Stowell-Evans.
The event included a small exhibition of electric cars, innovative heating materials and other exhibits, and featured an interactive Stakeholder Video Wall, with representatives from 20 organisations appearing on the wall via Zoom.
A total of 587 registered viewers watched the content live, as well as hundreds more unregistered users.
We are continuing to work with the Welsh Government on the COP26 Regional Roadshows and Wales Climate Week, which runs virtually from 22-26 November.
Find out more about COP Cymru and how you can get involved here.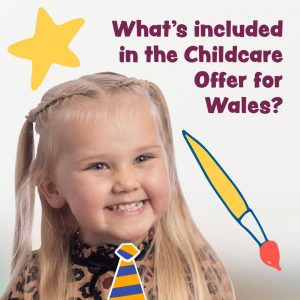 Promoting Welsh Government's Childcare Offer for Wales
We have been working with the Welsh Government for over two years to promote the Childcare Offer for Wales, which helps working parents of three to four-year-olds with childcare costs.
Our latest burst of activity adopted a digital focus and concluded at the end of October. Adverts ran across Google, Facebook, YouTube, Spotify and LinkedIn, delivering over 4.4 million impressions and resulting in over 53,200 clicks through to the campaign website and over 10,000 YouTube views.