First taste of the communications industry for our Career Confident Cardiff University placement
As part of our commitment to supporting the next generation of marketers, Freshwater has partnered with Cardiff University, to offer internship placements to students for up to six weeks as part of its Career Confident programme.
The scheme provides a fantastic opportunity for Cardiff University students to get hands-on industry experience and valuable insight from our talented team. It also offers our teams the opportunity to learn from new and upcoming marketers and  hone their skills in mentoring.
Freshwater's Director of HR and Operations, Sarah Whittle, said:.
"Nurturing talent and providing young people with opportunities to gain work experience is at the heart of our culture at Freshwater. We are so fortunate to have a collaborative team of people who are enthusiastic about mentoring colleagues, to help them to develop their skills, and are dedicated to offering meaningful work experience.
"We are very excited to be working in partnership with Cardiff University to support young graduates under the Career Confident Programme."
Our first placement, Jodie Davies, joined us for three weeks after completing a degree in English Literature. We asked her about her experience of the programme and her time at Freshwater.
Jodie said: "Initially, the prospect of finishing university and going into a working environment made me feel anxious and worried. With no idea what I wanted to do; I was lost.
"My experience on the Career Confidence programme has definitely been a positive one and has benefited me massively, as I have become more confident in my decision-making and my ability to achieve my goals. Through the programme, I have had the opportunity to explore different possible directions that I would like to take, since my degree in English Literature allows for a broad scope of careers. I have been supported by the Career Confident team throughout, and they are always open to chat and give advice. Through their programme, I was able to discover marketing and, in pursuit of this, the program led me towards Freshwater.
"At Freshwater, I have had the opportunity to learn about the ins and outs of a marketing agency –.watching and learning about the work they do. This has inspired confidence in me, to work in a similar environment. I was welcomed warmly by the members of the team and was quickly encouraged to get stuck in with day-to-day tasks.
"I have had the opportunity to deal with many different tasks in the Marketing and Communications team, including researching, writing and using different software. This work experience has been valuable and also varied, which has given me the chance to gain experience and connect with new people along the way. I appreciate the opportunity that has been given to me because of the Career's Confidence programme.
"Freshwater has been the perfect start for me, as they have supported me every step of the way. I am thankful for their support and excited to see what the future holds for me."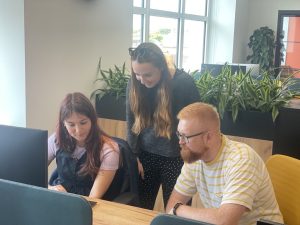 To learn more about careers at Freshwater, visit our careers page.