Freshwater's March Highlights
As Easter approaches, we've taken a few moments to sit back and recognise some of our key achievements this March.
Launching Cancer Research Wales' largest ever awareness campaign
Several months in the making, Freshwater was proud to help Cancer Research Wales produce and launch its largest ever awareness campaign, Get Checked, this month.
The multi-channel campaign will soon feature on Welsh TV and radio stations, and was promoted via numerous digital platforms, social media, press, campaign posters and leaflets. As well as overseeing the campaign development and delivery, Freshwater created a campaign website, serving as a landing page for those interested in learning more about the Get Checked campaign or seeking cancer-related support.

Working with Race Equality First to lead the conversation on hate crime and discrimination in Wales
We worked with BBC home affairs correspondent Jenny Rees to organise interviews with the charity Race Equality First (REF), alongside a case study who had suffered racial discrimination, to showcase the ongoing issues of racism in Wales.
REF hopes that a report it is developing for submission to the United Nations will seek to address these issues and lead to tougher legislation against hate crime and discrimination in Wales.
Read the BBC article here.
Promoting the International Day for the Elimination of Racial Discrimination
We ran a social media campaign for the Welsh Government to promote the UN event, "International Day for the Elimination Of Racial Discrimination". The aim was to raise awareness of the day amongst the Welsh public.
We were able to reach over 153,000 people in Wales on Facebook and over 93,600 people in Wales on Twitter through video-focused posts. Along with this reach, we generated over 173,800 total engagements on Facebook and 11,100 total engagements on Twitter.
Bringing together leading major infrastructure experts
The Nationally Significant Infrastructure Projects Forum took place in March and shared the latest insight and innovations for planning for nationally significant infrastructure projects.
The event covered various key issues ranging from 'Project Speed' to net-zero and biodiversity net gain.
You can see some snippets of the four-day event here. Alternatively, you can still register to watch events on-demand ran by Waterfront this month, including:
Commenting on workplace safety during the pandemic for Thompsons
Working with ITV Wales, we arranged an interview with Lisa Reynolds, an employment specialist at Thompsons Solicitors, for Wales This Week.
She spoke to Andrea Byrne on the topic of workplace safety during COVID, following the COVID outbreak at the DVLA in Swansea.
Choosing to Challenge on International Women's Day
In keeping with the theme of IWD 2021, we asked the Freshwater team to reflect on how and why they #ChooseToChallenge, sharing a series of graphics on our social media feeds. 
Our CEO, Angharad Neagle, also wrote an important piece for Business Live on the importance of International Women's Day, despite the progress made in combatting gender inequality in recent years.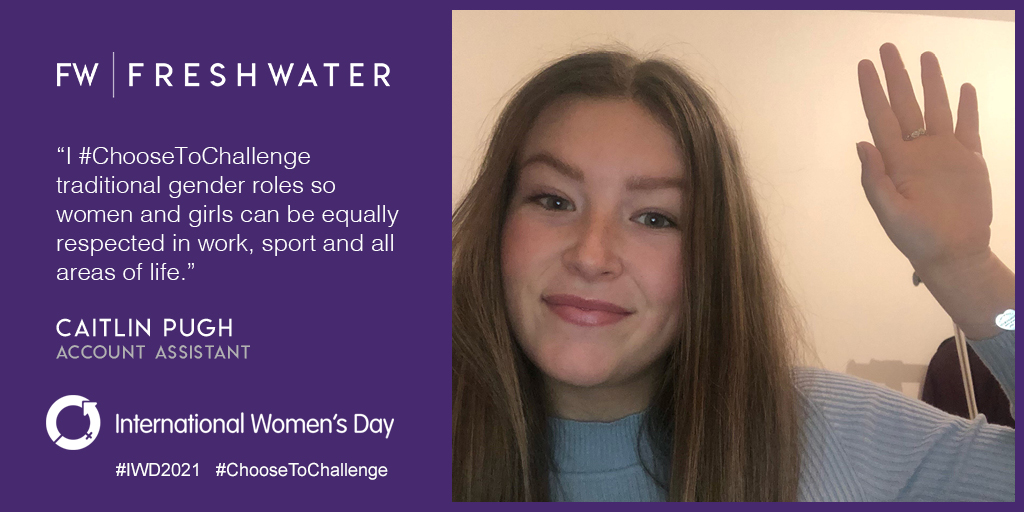 If you'd like to know more about our work, click here to explore.