Freshwater's May Highlights
It's that time of the month again where we share some of our favourite achievements from the past four weeks.
So, here we go for May…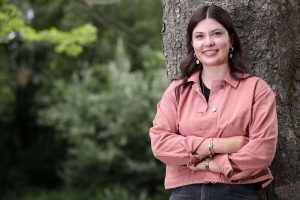 Helping Thompsons raise awareness of the dangers of mesh surgery
We helped social justice law firm, Thompsons Solicitors, raise awareness of the dangers of mesh on International Mesh Awareness Day (1 May) by shining a spotlight on the terrible injuries that it has caused for many people.
Mesh implants have been used widely across the UK for many years and can have a devastating and life-changing impact on those who are left with on-going pain and trauma.
On behalf of Thompsons, we told the story of five mesh victims through a targeted content campaign across earned and owned channels. Their stories were picked up in both national and regional press and broadcast.
You can watch two mesh injury victims, Paula Goss and Chloe Thurston, talk about their experiences, when they appeared on ITV West Country.
Launching events in our specialist areas
At the start of May, our sister company Waterfront successfully ran the Rail Safety 2021 virtual conference, which focused on improving safety throughout the rail network. It also hosted the Air Quality Forum, which provided guidance on how to identify and implement targeted solutions to improve air quality within your local area.
Both of these key calendar events are available to watch back on demand.
May also saw the launch of four upcoming events:
Hosting a masterclass in PR
We supported the Taylor Bennett Foundation virtual PR training programme this month by hosting a masterclass in press release writing and pitching effectively to journalists.
The programme is designed to prepare ethnic minority graduates for a communications career.
Three of our Cardiff colleagues led the session, providing insight, guidance and advice to those starting out in their careers.
Reporting a strong recovery
Freshwater reported a strong recovery from the impact of the COVID-19 downturn and has seen trading in the first half of 2020-21 year surpass our pre-pandemic level.
We have delivered revenue of £1.59m in the six months to February 28th 2021 – an increase of seven per cent on the same period in 2019-20. We expect revenue to exceed the budgeted £3.06m for the full year.
The figures mean that we will be resuming our search for acquisitions to enhance our sectoral strengths.
Angharad Neagle, chief executive of Freshwater, said: "We are on the hunt for potential partners who can add to our offering in two of the main pillars of the business – stakeholder engagement and integrated marketing."
Find out more about our work and what we do here.